We believe in putting our faith into action. Like the proverbial Good Samaritan in the Bible, we cannot just walk by those who are suffering, but do what we can to provide immediate relief and to bring about God's peace and justice in the world. We have ongoing efforts which are listed below, and we often have calls for volunteer support when there are extraordinary needs, such as when we collected and sorted donations for asylum seekers passing through San Diego.
Here are just a few of our offerings. If you are interested in helping, please email .
Christian Community Service Association (CCSA)
Good Samaritan supports CCSA financially and through annual drives such as a back-to-school backpack drive in support of children who are homeless and wouldn't be able to afford school supplies.
interfaith shelter
The San Diego area offers a rotating Interfaith Shelter for people transitioning from homelessness to a stable home environment. Each year, Good Samaritan hosts this shelter for two weeks and needs many volunteers to prepare meals and to stay overnight with our guests.
JUST ACTION group
Good Samaritan is a member church of the San Diego Organizing Project, the local Faith in Action affiliate that seeks to improve the lives of our neighbors through advocacy, public policy changes, voter registration initiatives, forums with government bodies and local candidates, and more. Our Just Action group is focused on three initiatives this year: affordable housing and housing justice; climate change/creation care; and racial justice.
build a Miracle
Each year, Good Samaritan partners with the Build a Miracle organization, a US/Mexico partnership, to build and furnish a home for a family in Tijuana with funds donated from our general fund. We travel to the site three Saturdays in the spring and celebrate with the whole community when the family moves in.
rachel's house
Teams of church members make meals for women in transition who stay at Rachel's House in downtown San Diego.
Burundi FRIENDS INTERNATIONAL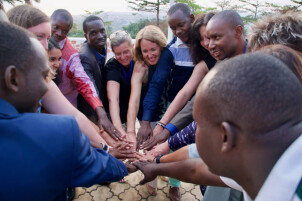 Burundi Friends International (BFI) is a San Diego based nonprofit that began in 2008 from a group of caring, powerful women determined to contribute to the elimination of severe poverty in Burundi, East Africa. Founded by Burundian Jeanine Niyonzima-Aroian, a former San Diego resident, the organization that once taught English instruction to 35 students and offered sewing machines to a few Burundian businesswomen today empowers 80,000+ youth, women, and families across all 18 provinces of Burundi.
BFI unites and educates youth, women, and men, creates economic empowerment, and builds self-sustaining communities in Burundi, East Africa. Since 2015, the Good Samaritan Outreach Committee has been an active supporter of that mission by investing in Burundian leadership development, peace initiatives, English and IT education, and economic empowerment across Burundi. BFI has found that Burundians excel at achieving their goals when given the opportunity.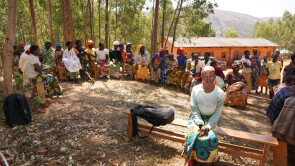 The collaboration between BFI and Good Sam's has brought light into a country suffering under the darkness of civil war and genocide. Together, we are doing our part to eliminate severe poverty in Burundi while illuminating hearts and minds across the country to dream, serve others, and enact a brighter future.
We invite you to be a Burundian advocate by visiting BFI's website at www.bufri.org.